Well, much to my surprise, over the weekend the chicks hatched. I had some trouble with the incubator and was unsure of their outcome. I think I just keep it too cold in the house for the incubator to keep a constant temp. During the day, the sun heats the house up nicely and then in the evening it gets downright cold. Anyhow, one day in particular I had trouble keeping the temp up even with the incubator wrapped with towels, so I turned it up several times over the course of the day and then by morning I awoke and it was 104.2. I was pretty certain I had done them all in, but much to my delight, 6 of them hatched. I do feel quite bad about the rest though. They were just 2 days from hatching when they got overheated. Some were duds, but most were developed. I feel like such a bad chicken mommy. Once it warms up a bit more, I plan to get both incubators running and hatch out a bunch.
We picked Josh up from his Tulsa trip yesterday and used some of Steve's hotel points for a hotel stay just for fun. We had such an enjoyable time together. Steve has an élite status from staying so often that they furnished our room with complimentary candy bars, snacks and drinks. Also we enjoyed the manager's hour and had a light dinner on the house, as well as a free appetizer at the restaurant. We sent the kids off to swim while we enjoyed our time over some delicious Bruschetta. A nice hot breakfast awaited us this morning, and then it was back to school and back to the real world. It was fun while it lasted though.
I got a surprise package in the mail today. You know that special person in your life, the cheerleader who always remembers birthdays and gets just as excited about your life as you are? That person is my Aunt Sis. She is technically Steve's aunt, but I claim her as mine. The kids can always count on a birthday card from Aunt Sis. I can hardly remember my own birthday; how she remembers and gets cards in the mail on time is truly remarkable.
Well, today I got a box from Aunt Sis with a really wonderful gift inside. What is it about an unexpected gift that makes it all the more special? Of course I tore the paper off the box like I was 3 years old, tossing shreds of it around the car. Did you think I would wait till I got home to open it? I opened the box to reveal the most beautiful afghan, and an equally wonderful letter from Aunt Sis. She said it was a prayer blanket that she had started long ago. And that she prays while she crochets, first that it would actually resemble a blanket when she is finished. I must say she did an absolutely wonderful job; resembled a very fine blanket to me. She also prays that the person she gives it to will be happy and healthy. She said she started it simply because she loved the colors but knew from reading my blog that she was to finish it for me. What an honor to receive such a blanket, one fashioned from love just as much as from the yarn that went through her fingers. She wanted me to be reminded of the coming of spring and of her love for me and my family. She didn't know when she started it that spring is my favorite season, and pastels, my favorite colors. Also, I doubt she remembered that the orchid and purple were our wedding colors, orchid being my favorite color. It was as if God himself chose the yarn. When I opened it the colors spoke to me, the purples of God's love and commitment to me like a marriage, the pastel greens of his promise to lead me to green pastures and the pastel yellows of happiness and warmth. I cherish the gift of that blanket, and I cherish the gift of Aunt Sis in my life.
I love it when God sprinkles people into our lives. There is the cake, and the icing on the cake, and then there are the sprinkles. The sprinkles are those that God flings into our lives for the shear purpose of making it more meaningful, more significant, and more beautiful. I thank God for those He has chosen to sprinkle into my life.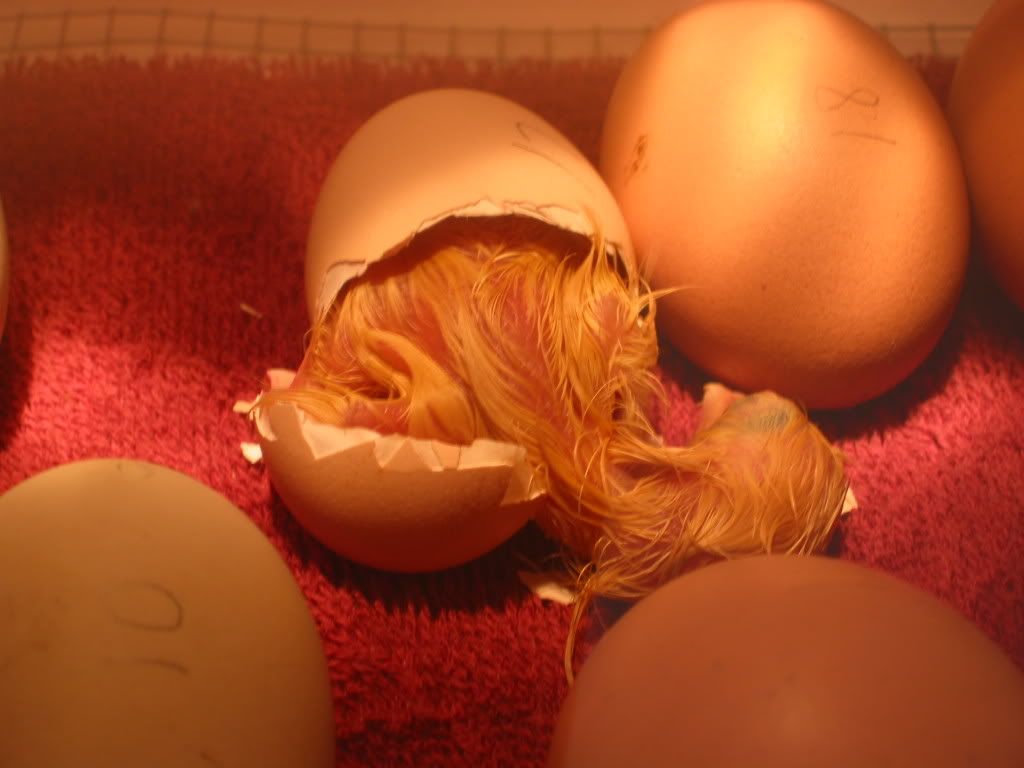 A chick hatching
What a bunch of fine looking chicks.
A close up of the beautiful afghan Aunt Sis crocheted. The picture doesn't do the rich, vibrant colors justice.